commonpleas.com
is a privately-owned website which offers the Judges and candidates of the Courts of Common Pleas of Ohio an opportunity to bring information to the people of their jurisdictions. commonpleas.com will offer information on the judges and candidates for county Court of Common Pleas of each Ohio county from which a Judge or candidate wishes to place information, including the General Division, the Domestic Relations Division and the Juvenile Court Division of the Court of Common Pleas for those counties which have separate Divisions, and the Probate Court for those counties which have a separate Probate Court or Probate Division. This site is operated on the fees paid by its advertisers. No tax money was spent on this site.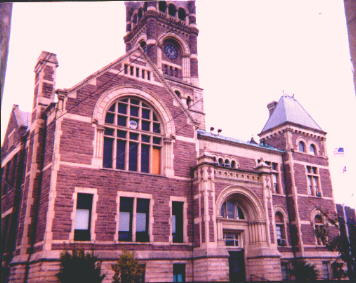 Perhaps the most famous of Ohio Common Pleas courthouses during the 1990's, the Perry County Court House in New Lexington.
Click http://aceverdad.com/politics.htm for details on posting your information on this site,
or contact Ace Verdad News by email aceverdad@aol.com.